September 30, Ink Art Workshop with Angela Miller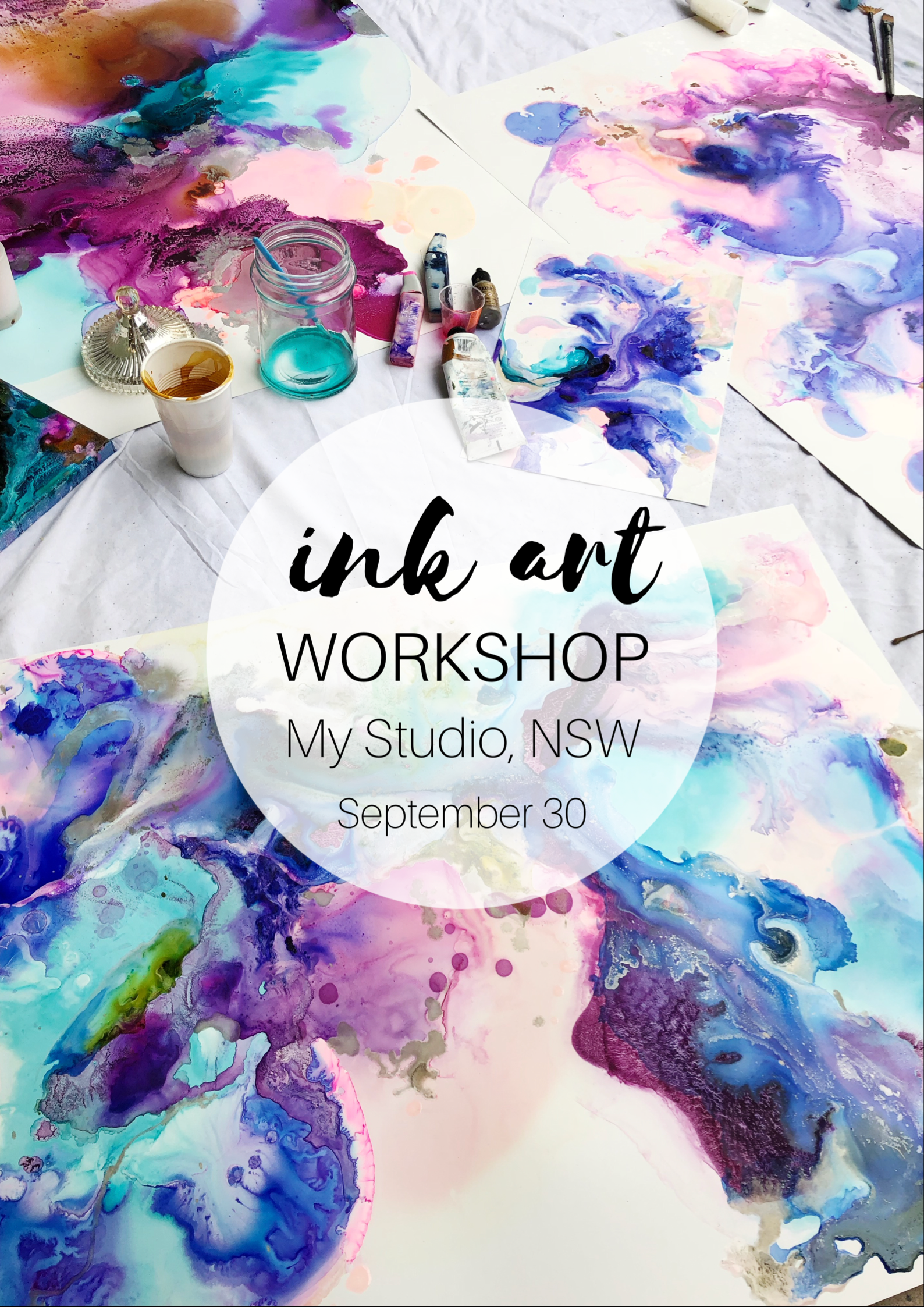 September 30, Ink Art Workshop with Angela Miller
This workshop has been such a rewarding and inspiring success! Due to popular demand I am offering just one Ink Art Workshop in my Studio in Cooranbong, a leafy town nestled at the foot of the Watagan mountain range.
PERFECT for beginners and practicing artists alike, I have seen so many women experience a profound awakening to their own creative energy. The feedback has been so encouraging! It's simple but extraordinary, and has much to do with the beauty of this unique media mix plus the revealing of foundational creative truth which I have discovered and tested in my 20+ years of creating and teaching.
"I had such high expectations for the Ink Art Workshop and Ange delivered in every way. Not only did I learn the techniques behind Ange's art, I learnt how to apply this to my own creative process. It was such a supportive and enriching workshop, I couldn't recommend it enough!" - Michelle
"I am actually still in shock because I spent my life wanting to make art but believing that I didn't have the talent for it. Ange made it so accessible and now I am addicted! Ange, the words you said to us has unlocked something in me and I finally feel free to enjoy playing and make art I love - thankyou, thankyou!!" - Jessi
So what can you expect from my Ink Art Workshop?
Come and observe a series of demonstrations as I show techniques and media application step-by-step. Learn the properties of the unique media mix I have discovered in hundreds of hours of experimentation.

Beginners are welcome! In fact, if you have not done any art at all but have longed to try, this is a brilliant introduction into enjoyable creative expression.

Plenty of yupo paper, alcohol inks, acrylic inks, fluid acrylic, shellac, gold leaf and mediums will be provided for you to experiment and make your own eye catching pieces. You'll also be shown how to correctly seal your pieces for longevity. You will come away with multiple original pieces ready for framing.

I will be sharing gems of creative truth to empower and cultivate your creative engagement; not only for the workshop, but for a lifetime of rewarding creativity.

Delicious refreshments provided.

Aftercare - you will receive an email outlining all the materials and processes so you can continue the adventure in your own space. AND I will always be available to you for a chat if you have questions or become stuck.
Where:
My Studio, Cooranbong NSW
(Location to be revealed via email prior to the event. Please be sure to add ange@angemillerart.com to your address book so you don't miss the email.)
When:
10am-1pm, September 30, 2018
Optional BYO apron and wear clothes given to the possiblity of staining!
Limited spaces available.
Please contact ange@angemillerart.com for enquiries.
sold out