Private Masterclass with Angela Miller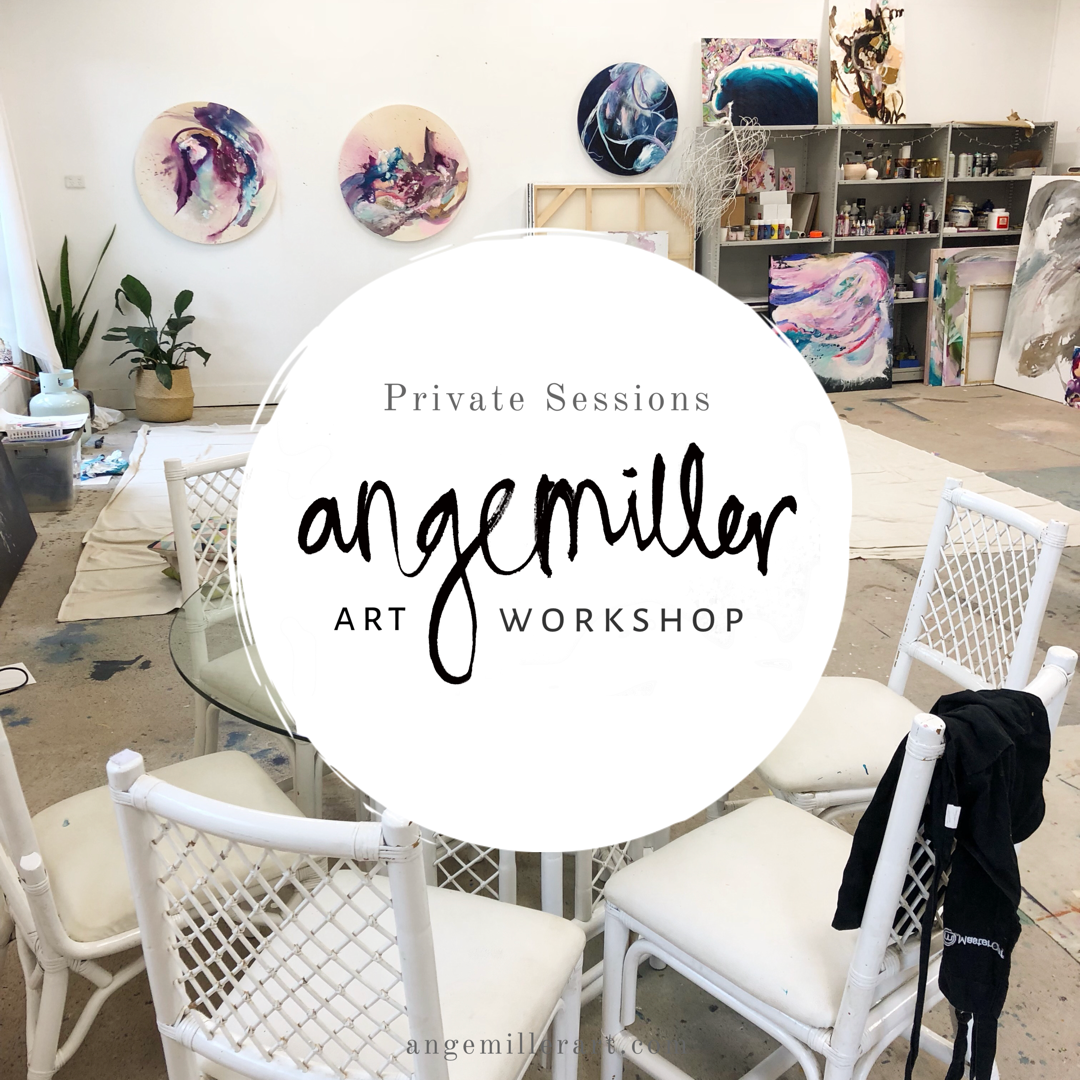 Private Masterclass with Angela Miller
Please contact me to confirm dates prior to purchasing.
If you need to a good drenching with creative inspiration and empowerment but you'd prefer a private setting in which to explore, a very limited number of private workshop sessions are available for 2018. These sessions take place in my spacious art studio in Cooranbong, NSW Australia.
Do you need a gentle (but powerful!) kick up the creative behind?! Can you imagine smashing through creative blocks and barriers of insecurity and self doubt?? If you're wishing for a therapeutic creative outlet or even a way to make some extra cash while still doing something which feeds your soul, I can help you with all this! I LOVE working with people and I have a gold mine of tried-and-true tips and tricks to set you off on the right foot. It's my absolute joy to enable women to realise their creative power, and I know I'm onto Something Very Exciting because the feedback from my classes has been consistently amazing.
"I have come away from your Masterclass Workshop feeling uplifted and empowered, ready to take my art to a whole new level. I am excited, I am reinvigorated and I am inspired. Thank you from the absolute bottom of my soul. You don't know the impact you've had on me. You've changed me and in a way saved me. You've cemented for me that creating is my calling. I'm on the right journey and my story is coming together and evolving into something amazing. Thanks again for an amazing weekend. Everything was perfect. I would love to paint again with you one day." ~ Megan
"I have been so inspired ever since the Ink Art workshop. Ange has such a calm vibe and made it so easy to get in the zone! The techniques I learnt have taken my art to the next level. Thank you Ange for coming all the way to the Gold Coast to teach us! I wanna go back and do it all over again!" ~ Danni
"Today I had the opportunity to learn from the very passionate and talented Ange Miller at the Ink Art Workshop. This was hands down the best thing I've ever spent my money on. This lady was willing to share so much with us and I got to learn a great deal while have the best time. Painting just takes me to my happy place and there is nothing like this feeling! I have come back from the workshop feeling so happy, grateful and content. Please come back again, Ange! You truly are wonderful!" ~ Paige
For your very own one-on-one session you can choose from the following media:
Ink Art on Yupo Paper (includes mount + resin finishing for one piece),

Intuitive Acrylic Abstraction on canvas

Semi-Abstracted Landscapes in Acrylic on canvas

Abstract Oil Painting on Canvas
What you'll get:
Crucial teaching and instruction on cultivating an unstoppable creative mindset.

Extensive demonstrations

Multiple pieces of your own art to take home in various sizes of paper (plus one on canvas or one mount + resin yupo depending on your selection)

All materials + delicious refreshments are provided for you. (Lunch is also provided in the Full Day Session)

A phone consultation prior to the scheduled booking. This enables me to get a good sense of what you need from the class so I can best serve you on the day.
Full Day is a 6 hour Session, Half Day is 3 hours.
A private session allows for up to three participants. For each additional participant please add $150 to cover the extra materials and tailored instruction.
About Me:
I have been an artist for over 20 years, 10 of which were spent teaching Painting & Drawing to Bachelor Degree students at Avondale College of Higher Education.
During the first few years of lecturing I became aware of a prevalent problem among students which challenged the effectiveness of my lab lessons: a serious creative confidence deficit. I began searching intently for answers that would free my students enough to make work that would build creative confidence. I have tried and tested my findings and I'm so excited to use what I know to continue liberating creative souls into a confident practice of art. Identity-affirming and therapeutic, this approach to creative practice brings healing and empowering truth which spreads to all aspects of your life. This is why I'm so charged with enthusiasm for what I teach!
Feel free to contact me for further information: ange@angemillerart.com
I would love to work with you and use what I have learned to help you succeed.
Please contact me to confirm dates prior to purchasing.