October 6 & 7, 2018 Ink Art Masterclass with Angela Miller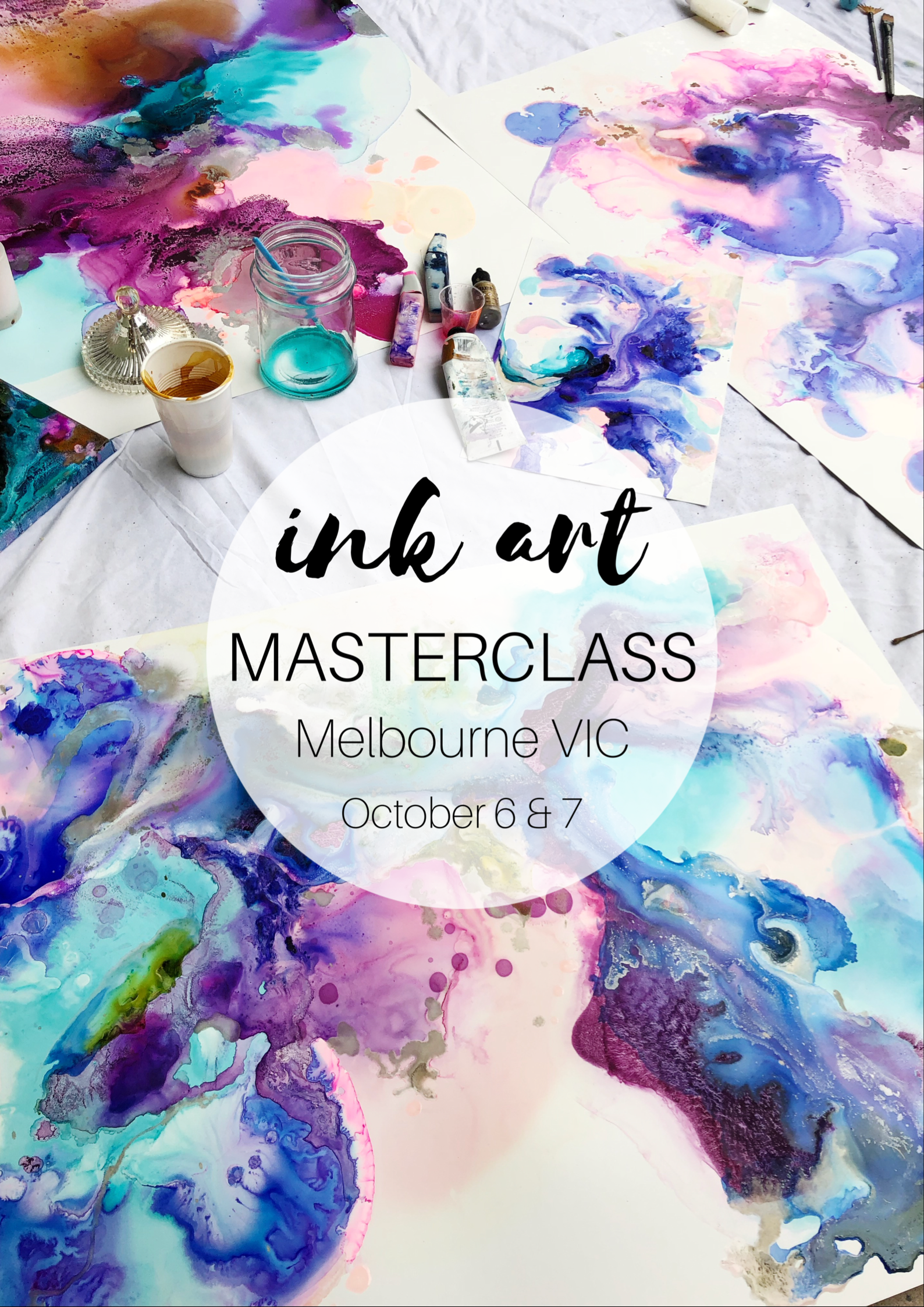 October 6 & 7, 2018 Ink Art Masterclass with Angela Miller
Melbourne!! You asked, and I'm bringing it! This is last time I'll be in Melbourne this year…
Perfect for beginners and practicing artists alike, my objective is not only to equip you with media knowledge and new skills, but also to invigorate and find a better connection with your creative energy. This Masterclass is a unique opportunity to get your master flow on with me in a gentle and inspiring atmosphere. Come and discover your voice in colour and awaken latent parts of you yearning to create.
"I had such high expectations for the Ink Art Workshop and Ange delivered in every way. Not only did I learn the techniques behind Ange's art, I learnt how to apply this to my own creative process. It was such a supportive and enriching workshop, I couldn't recommend it enough!" - Michelle
"I am actually still in shock because I spent my life wanting to make art but believing that I didn't have the talent for it. Ange made it so accessible and now I am addicted! Ange, the words you said to us has unlocked something in me and I finally feel free to enjoy playing and make art I love - thankyou, thankyou!!" - Jessie
"I have been so inspired ever since the Ink Art workshop. Ange has such a calm vibe and made it so easy to get in the zone! The techniques I learnt have taken my art to the next level. Thank you Ange for coming all the way to the Gold Coast to teach us! I wanna go back and do it all over again!" ~ Danni
"Today I had the opportunity to learn from the very passionate and talented Ange Miller at the Ink Art Workshop. This was hands down the best thing I've ever spent my money on. This lady was willing to share so much with us and I got to learn a great deal while have the best time. Painting just takes me to my happy place and there is nothing like this feeling! I have come back from the workshop feeling so happy, grateful and content. Please come back again, Ange! You truly are wonderful!" ~ Paige
The Masterclass includes the Ink Art Workshop PLUS Next Processes (The Grace of Layers), PLUS extra two modules: 1. Finding & Refining Your Style (Journey to Your Purest Expression) and 2. Selling Your Art (Funding Your Journey).
As with the regular Ink Art Workshop we will delve into all the characteristics and processes of this beautiful and unique media mix and absolutely everything is provided for you to explore and create to your heart's content.
You will be provided with alcohol inks, acrylic inks, fluid acrylics, shellac, mediums, gold leaf, acrylic paint, all the tools, plenty of yupo paper in sizes from A5 - A2.
The Masterclass provides the following upgrades from the Ink Art Workshop:
Longer and more in depth demonstrations

Personal consultation (it's a one-on-one chat about where you're up to with a creative cycle and how I can help to enrich your life experience with what I've learned). This will take place over the phone prior to the event.

Larger working space and therefore the opportunity to work on large scale pieces.

Double the time to work on honing the techniques and discovering what you love.

Demonstration and ample opportunity for post-pour processes to fine-tune your pieces by reworking with acrylics and glazes (we'll delve into colour theory and composition tweaking to really get your work to pop).

Next steps - instruction and inspiration for cultivating your own therapeutic and identity-affirming creative cycle.

After care- You can reach out anytime in the future via email with questions and I will support you with wisdom gained from 20+ years of experience with creative processes.

Delicious refreshments will be served on both days.
You will leave with multiple finished pieces, a fresh new perspective on your intriguing and empowered creative self and given the know-how for nurturing an unstoppable creative cycle. I ABSOLUTELY cannot wait to share this with you!
When: Saturday 6th October, 1pm-4pm; Sunday 7th October, 10am - 1pm
Where: Yarra Valley, "Plum Hill"
45 Coldstream West Road
Chirnside Park, VIC 3116
Plum Hill is a 45 min drive from the Melbourne CBD. You could book a night close by in the beautiful Yarra Valley and make a weekend of it!
Once booked, PLEASE add ange@angemillerart.com to your address book so you don't miss any correspondence from me.
You will receive an email 2 weeks prior to the event inviting you to schedule a phone consultation with me, so keep an eye out! These calls are chatty and light-hearted and give me wonderful insight into how I can best help you in your creative journey.
About me:
I have been an artist for over 20 years, 10 of which were spent teaching Painting & Drawing to Bachelor Degree students at Avondale College of Higher Education.
During the first few years I became aware of a prevalent problem among students which challenged the effectiveness of my lab lessons. A serious creative confidence deficit. I began searching intently for answers that would free my students enough to make work that would build creative confidence. I have tried and tested my findings and I'm so excited to use what I know to continue liberating creative souls into a confident practice of art. Identity-affirming and therapeutic, this approach to creative practice brings healing and empowering truth which spreads to all aspects of your life. This is why I'm so charged with enthusiasm for what I teach!
Feel free to contact me for further information: ange@angemillerart.com
sold out